Celadon Home of Mount Pleasant
A shopping trip to Celadon in Mount Pleasant is almost certain to be an adventure.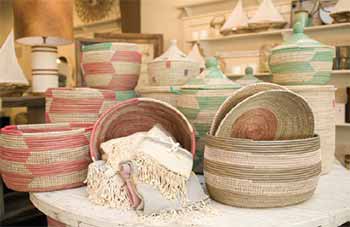 A local favorite for 20 years now, Celadon has a reputation of never featuring the same item twice. Instead, the home décor boutique makes a point of curating chic home fashions from across the country and around the globe.
The main buyers for the store - Rebecca Hawkins and Grace Toland - do a great deal of traveling to scout out pieces that would appeal to shoppers in Mount Pleasant and beyond. But trips to New York City, Los Angeles, Atlanta and other hubs of style and decor are just the beginning.
Another key location is India, where, according to Celadon's marketing director, Taylor Sasser, "there are some great markets with one-of-a-kind pieces."
Sasser mentioned that another important reason for venturing to India for items that make Celadon special is the opportunity to "give back" - a practice they keep up on the local level as well - especially to the women's co-ops. The relationships that the shop has formed with these global purveyors help the store remain a unique place to outfit the home with fine furniture, rugs, knickknacks and more. Many of these items are authentic pieces, and many of them are made by hand.
"We do have a couple of brands that are made in the United States," Sasser added. "We strive to keep a good mixture. But we like to pick and choose, meaning that we don't get all of everything from a single label."
Recently, the Celadon warehouse in the Navy Shipyard in nearby North Charleston has become a favorite for style-savvy shoppers who are hoping to find a deal. The warehouse is open two days a week as of right now - Wednesday and Saturday - and offers a hodgepodge of items that have arrived recently and have not made it into the Mount Pleasant store. There's also plenty of clearance items.
"It's like a game of finders keepers," Sasser remarked. Other upcoming plans for this home décor boutique include going with the "green" movement - in fact, as Sasser and I spoke, construction to make the store solar-power friendly was going on all around us. Most of the items for sale at Celadon are sustainable as well.
The Celadon staff, along with the shop's founder and owner, Steve Lesniak, hope to create a destination for those who seek to be inspired when it comes to decorating their home. Essentially, shoppers might think of Celadon as a giant Pinterest board or a magazine brimming with ideas.
"We want to show what's trending for the home and what's in - even if you don't happen to buy anything that day," Sasser explained. "We do a lot of in-home design for our clients, and designers like to stop here as well and see what we have."
To learn more about Celadon, visit www.celadonathome.com or call 843-884-7005.